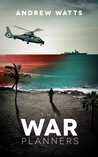 The War Planners
by
Andrew Watts
My rating:
5 of 5 stars
Wow!!! Andrew Watts's The War Planners is an amazing novella. It has suspense, it has mystery and most importantly it ends with a cliff hanger. A short read around 86 pages, but it is nonetheless packed with twists and turns.
David Manning is a retired Navy soldier working for In-Q-Tel a CIA backed venture fund which spotted potential technology which will allow US to maintain its technological advantage over its contemporaries. He is abducted on his way back home and flow to a remote island in the middle of nowhere where he meets other people with experience and expertise in technology, military, intelligence, strategy and what not... They are called
The Red Cell
and they have 3 weeks to put together the most devastating plan where they will forecast the worst possible attack scenarios that China can come up with if it wants to overcome the United States in an unconventional warfare.
Asymmetric warfare at its deadliest. Everything looks legit... but David's instincts are off, and he is worried that things are not as they seem...
The novella sets the right tone, the dialogue is crisp without going too much into the technical details which may divert the readers attention.
My only peeve with this is that it left me hanging at the end... I want to read through to the end and know what happens and I want to know it now....
Andrew are you listening... Andrew....